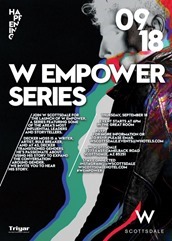 Scottsdale, AZ – W Scottsdale is pleased to announce the launch of a new innovative series; W Empower, set to debut on Thursday, September 18.This series will feature some of Scottsdale's most influential and dynamic leaders and storytellers, and is set to inspire and empower its audience with stories and experiences filled with passion and spirit.
The premiere of this series will feature Decker Moss. Decker Moss is a writer, public speaker, dog-lover, hopeless sports-a-holic, and a twin. And he was born female. At 43, Decker transitioned genders. But the decision was not an easy one. Growing up, Decker always felt like a boy. But he looked and sounded identical to his twin sister. And he loved that. As a result, he'd spent a lifetime emotionally torn between two deeply held identities: his own as male and the one he shared with his female twin. But to become who he truly was on the inside he realized he'd have to walk away from the person he was on the outside—and in doing so not only forever alter his own identity but his twin sister's as well.
Today, Decker travels the country talking openly about his experiences. As evidenced in his two TEDx talks in Columbus, Ohio and St. Louis, Missouri, he's passionate about using his story to expand the conversation around gender. Because at the end of the day he believes we're so much more than just male or female. We're human. And we should all be able to be ourselves.
W Scottsdale is located at 7227 East Camelback Road, Scottsdale AZ.
To RSVP or for more information, please email wscottsdale.events@whotels.com, or call 480-970-2128.
Doors open at 6PM. This event is complimentary.
Hey Doc, some boys are born girls: Decker Moss at TEDxColumbus
W SCOTTSDALE – Scottsdale, Arizona (www.wscottsdalehotel.com)
W Scottsdale marks the debut of W Hotels in Arizona. This sultry Southwest oasis, where innovative design mixes with urban sophistication, features 230 guest rooms including 33 lavish suites. A true insider escape, W Scottsdale boasts Arizona's only Bliss® Spa, Sushi Roku restaurant, and W Hotels The Store and offers three chic destination bars – the W Living Room Bar, Shade Lounge and Sunset Lawn. Located in downtown Scottsdale, W Scottsdale provides guests access to discover the city's high-profile shopping, innovative restaurants, eclectic arts district and vibrant nightlife. Signature services and amenities include the Whatever/Whenever® concierge service, WheelsSM, FIT Fitness® Center, WETSM, WIRED Business Center and P.A.W. – Pets Are WelcomeTM. For more information, visit www.wscottsdalehotel.com or call to schedule a reservation 877 W HOTELS.