Greg Lee receives inaugural diversity award for NFL franchises LGBTQ+ allyship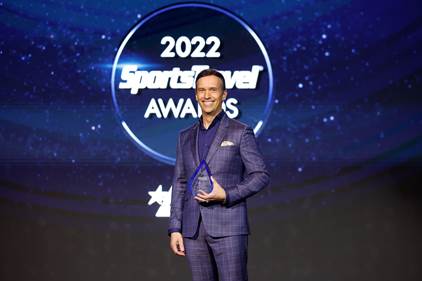 Arizona Cardinals Chief Financial Officer Greg Lee accepts Compete Sports Diversity's
2022 Person of the Year award on Oct. 26. (Photo by Jared Wickerham)
Tempe, Ariz. (Nov. 10, 2022) — As the world turns its attention to State Farm Stadium, where Super Bowl LVII will decide the next team to hoist the Lombardi Trophy on Feb. 12, 2023, one senior executive with the Arizona Cardinals just brought home a different trophy.
Greg Lee, Arizona Cardinals Chief Financial Officer, was recognized as Compete Sports Diversity's Person of the Year for 2022. The award was presented by Compete, in partnership with Tempe Tourism Office, on Oct. 26 as part of the TEAMS Conference & Expo presented by SportsTravel magazine in Oklahoma City.
"Compete was honored to partner with the Tempe Tourism Office to recognize Greg Lee as our first-ever Person of the Year," said Eric Carlyle, Compete CEO. "Greg's commitment to advancing diversity, equity and inclusion in sports has been a game changer in both recreational and professional sports."
Lee was selected by Compete's executive committee, which considered "spirit, generosity and dedication to sports diversity" as the criteria for selecting the inaugural honoree. In Lee's nearly 17 years with the NFL franchise, he has played an integral role in countless efforts that set him apart from the other candidates.
"Lee was among the first senior executive from the NFL teams to champion equity, diversity and inclusion by asking what he could do for the LGBTQ+ community," Carlyle added. "He listened and then he took action by working closely with the community in meaningful ways. He's set a shining example that other executives are now adding to their playbook."
By partnering with the National Gay Flag Football Association (NGFFL), the Arizona Cardinals were instrumental in bringing Gay Bowl XXI – an LGBTQ+ flag football tournament – to Tempe, Arizona, in 2021.
That relationship continues, as representatives from the NGFFL were subsequently invited to the 2022 NFL Draft to announce Cardinals third-round pick (No. 87 overall) before a live audience in Las Vegas, as well as an estimated 10.3 million viewers worldwide. The team's selection — Cameron Thomas, defensive end from San Diego State — was read by NGFFL player and former league commissioner Joel Horton, making him the first openly gay person to announce an NFL draft pick.
Off the field, the Arizona Cardinals are gold sponsors of the Greater Phoenix Equality Chamber of Commerce (GPECC), and also launched a new partnership with Compete's annual Sports Diversity Summit in 2021.
"The Tempe Tourism Office is proud to be a presenting sponsor of Compete's inaugural Person of the Year award," said Michael Martin, President & CEO of the Tempe Tourism Office. "Not only does this speak volumes about the inclusive and welcoming spirit of our city, it also celebrates our Gay Bowl XXI guests and enriches the narrative around the Cardinals' local relationships and priorities as we countdown Super Bowl LVII. Everyone is welcome here, and this is just one way we're sharing that."
Another way in which Tempe is widely extending an invitation to all visitors year after year, is via its Human Rights Campaign's Municipal Equality Index (MEI) score, a snapshot that is based on a nationwide evaluation of municipal laws and related criteria, including non-discrimination laws and leadership on LGBTQ+ equality. Since 2014, the City of Tempe has earned the perfect score of 100.
For updates on the Tempe Tourism Office's LGBTQ+ efforts, please visit tempetourism.com/travel-tips/lgbtq or, for more information on booking your next event in Tempe, visit tempetourism.com/plan-an-event.