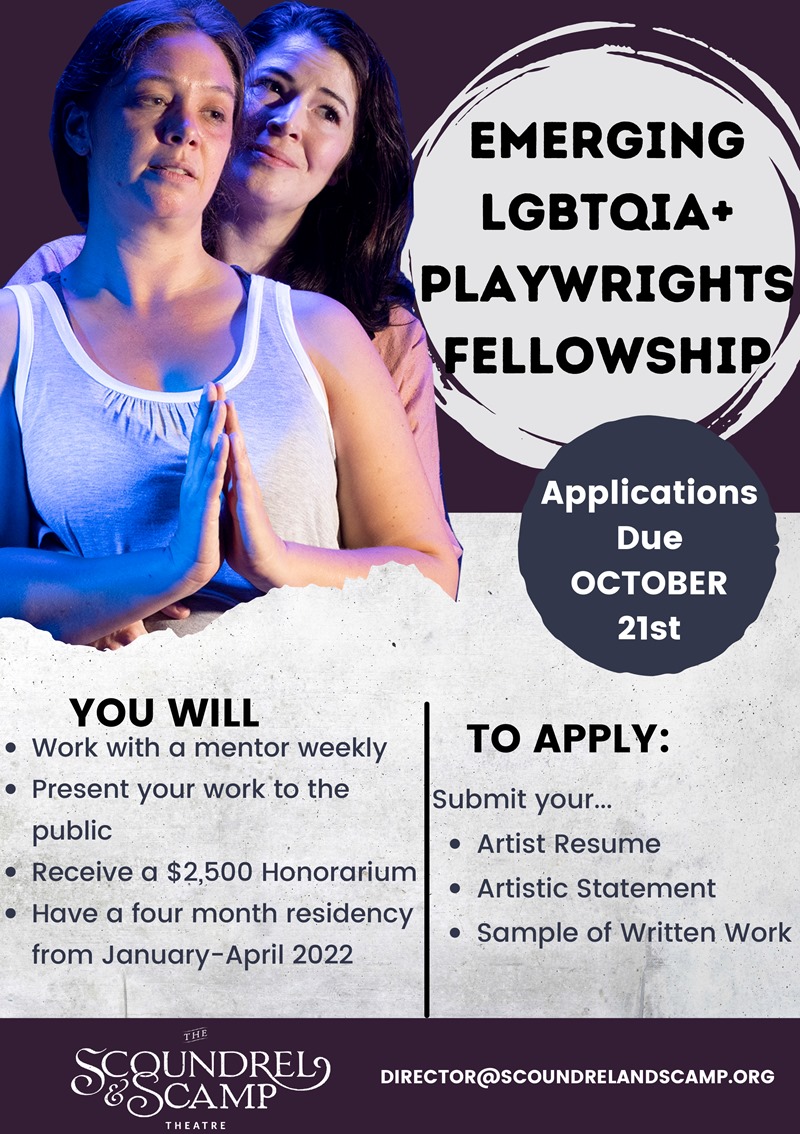 We seek an emerging playwright for a four month residency at the Scoundrel & Scamp Theatre.
As part of our mission to foster the next generation of theatre goers and artists, the S&S is pleased to announce the S&S Emerging Playwrights Fellowship.
We wish to address the lack of representation for underrepresented communities, both on the page and on the stage. To help close this gap, we are seeking to support a LGBTQIA+ playwright. We seek playwrights who wish to write emotionally resonant stories for audiences of all ages.
As part of the Fellowship, you will:
● Work with a mentor weekly
● Present the work to the public at the end of the program!
● Receive a $2,500 Honorarium
● Have a four month residency
● Write for all ages
What you need to apply:
● Must be 18 years or older to participate in this fellowship.
● Artist resume
If you are a writer, poet or playwright please be sure to highlight previous writing work ● Artistic Statement (Limit 1 Page)
Speak to your interest and/ or experience with playwriting, how you would like this program to support you on your artistic journey and your goals for this fellowship. Tell us about your project and how you plan to appeal to young audiences and their adults. What do you want to write during your time with the S&S?
● Sample of written work (Limit 3 pages)
Please submit a sample of your written work that best illustrates your style and voice as it might relate to this project.
Running from January 2022 – April 2022.
Deadline Extended: Applications for emerging LGBTQIA+ playwrights in Southern Arizona are DUE OCTOBER 21st
All applicants will be notified of the results of the application process by November 17th. Please send any questions to director@scoundrelandscamp.org.