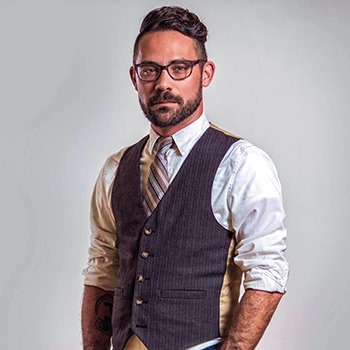 PHOENIX (April 13, 2023) — Aunt Rita's, whose mission is to end HIV in Arizona, announced Stacey Jay Cavaliere as its new Executive Director bringing fresh eyes and new perspectives to the Valley-based nonprofit leading the Foundation into its next chapter.
A dedicated and experienced leader in Arizona's nonprofit community, with nearly 20 years of experience working in social services and nonprofit, Cavaliere will build upon Aunt Rita's solid foundation serving as its chief fundraising and administrative officer and leading its development/administrative team.
Cavaliere is a respected professional in the field holding various executive leadership positions throughout his career. He is a tireless advocate for vulnerable populations and marginalized communities, including youth and young adults of color, justice-involved populations in recovery, houseless individuals, and those living with HIV. He has also developed and managed positive youth development and homelessness prevention programs, stewarded major, corporate, and sustaining donor initiatives, and has extensive experience executing record-breaking fundraising events.
"On behalf of the Board of Directors, I want to extend a warm welcome to Stacey Jay," said Aunt Rita's Board of Directors Chair, Daniel Sciortino, who led the search committee. "With nearly 20 years in non-profit leadership and a great track record as a team-builder, innovator, and change agent, I know he will be an excellent leader. We are thrilled to support him as he builds upon the solid foundation."
Cavaliere walks proud in his truth as an HIV-positive individual, often serving as a personal resource for others. When he was first diagnosed, Aunt Rita's Foundation was one of the first agencies he reached out to for resources, which led him to receiving services at several of the partnering agencies.
"My journey has now come full circle and I truly believe the universe is calling me to serve the community in a new capacity," said Cavaliere. "As the incoming Executive Director of Aunt Rita's Foundation, I look forward to leading this dedicated team and supporting the partnering agencies during this pivotal time in the Foundation's history; building upon the Foundation's rich legacy, and working each day tirelessly, to end HIV in Arizona. Let's get to work!"
Aunt Rita's partner agencies include Ebony House, The Bill Holt Clinic at Phoenix Children's Hospital, CAN Community Health, Chicanos Por La Causa LUCES Program, HEAL International, HIV Care Directions, Valleywise Health, one n ten, Southwest Behavioral Health Services, Southwest Center, Shot in the Dark, Southwest Recovery Alliance, Terros Health, and more.
Aunt Rita's has provided millions of dollars in grant funding in support of critical HIV prevention and treatment programs throughout Arizona. Aunt Rita's distributes free 15-minute Home HIV oral swap test kits through GetTestedAz.org, where free vouchers for confidential in-person clinical testing at Safeway/Albertsons and Sonora Quest locations statewide for all STIs. Aunt Rita's Foundation also works with the Arizona Department of Health Services to connect individuals of any status to knowledgeable providers covering the entire state through HIVAZ.ORG.
Aunt Rita's Foundation was a founding member with the City of Phoenix Fast Track Cities initiative and plays a vital role in advocating at the Arizona legislature and State Government to establish laws, regulations, and policies that further our efforts to educate, prevent HIV, and treat HIV.
For more information on Aunt Rita's Foundation, visit www.auntritas.org.