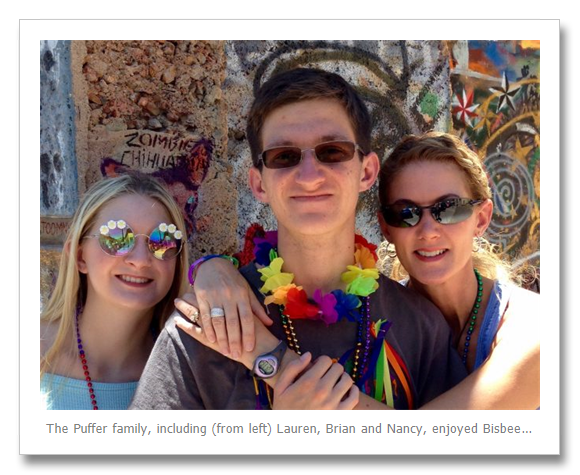 Attending a gay pride festival as part of a family vacation? It doesn't exactly top the popular list of family plans for summer travel. But I write from experience when I say that it's actually a great way to bring your family together and experience something entirely different.
Our family attended Bisbee Pride 2016 this past weekend and had a fabulous time.
If you're not familiar with pride festivals and parades, they are typically held in cities and towns around the US and celebrate lesbian, gay, bisexual and transgender culture and pride. They also serve as a popular venue for promoting legal rights and equality for LGBT individuals. Cities such as Miami Beach, Boston, New York, Chicago, Houston, Dallas, Phoenix, Tucson, and even towns like Bisbee host these events annually and feature everything from concerts and flamboyant parades to pool parties and pub crawls. The mood is festive, the crowd is friendly and the people-watching is exceptional. You'll see people dressed in all variety of irreverent get-ups and whimsical costumes, but one thing you don't see a lot of is traditional nuclear families in attendance. You might see a number of families with gay or lesbian parents, but traditional families, not so much.
A number of things brought our family together for a weekend getaway at Bisbee Pride. First, some good family friends own a handful of vacation rental homes in Bisbee and offered us a place to stay that weekend. They made the offer for a number of reasons, but the most important being: our oldest child is gay, our whole family loves visiting Bisbee, and the four of us had never attended a pride festival together. Our friends assured us it would be the experience of a lifetime, not only because Bisbee is a fun and quirky little town, but it would be a generous act of love for all of us to make this happen for our son, and it wasn't lost on us that it fell on Father's Day weekend.
At first, my husband was ambivalent about it. This sort of stuff just isn't his thing, but the reasons above are what really pushed him over. With that, our teenage daughter also joined us and it became a family vacation. Our son started his summer break from his program at the U of A that Friday evening, so we picked him up and headed south to Bisbee.
When we arrived, we caught a glimpse of the crowd gathering for the Lingerie Pub Crawl. Lacking the proper attire and considering our two underaged family members, we passed on that activity, but other choices included a street dance, a cabaret, live music, a ghost tour, and a variety show. We walked around and checked out a few of the events, but didn't stay out too late. The highlight of the evening was running into two friendly fellows dressed as nuns with colorful makeup who said they were part of the Grand Canyon Sisters of Perpetual Indulgence. They invited us to their Twisted Sister Bingo & Bloody Mary Bar on Sunday morning, a fundraising event to benefit a local domestic violence prevention program. They also mentioned we would see them again during the Bisbee Pride Parade on Saturday, the main event of the weekend.
During most of the day on Saturday it was a typical tourist experience in Bisbee, the crowd was a mix of tourists, locals and folks in town for the event, but nothing too outrageous. We walked through the pride booths and vendors and picked up all sorts of freebies ranging from bead necklaces and bracelets to bumper stickers and condoms. Yes, condoms; both male and female, along with other products and accessories. I'll dispense with the specifics, but the booth was promoting safe sex and brought up some interesting dialogue between me and my kids. They learned a few things and so did I. I know not all parents feel the same as I do, but I want my kids to be able to come to me with any questions they have about sexuality and I have promised them I will answer them honestly, as best I can. Parenting a gay child brings up another whole subset of things to consider when offering guidance and it's interesting how something as simple as picking up a free condom can open up a conversation that really needs to happen between parent and child.
My son and I had also attended Phoenix Pride the previous year and one difference we noted was that the Bisbee Pride seemed tamer and the events were more spread out. Events were happening at various locations all over town rather than in one large, centralized park area where you paid a hefty cover charge to enter. Many of the events at Bisbee Pride were free, including the parade. Also, the Bisbee crowd wasn't quite as flamboyant with fewer folks adorned in outrageous costumes and makeup. The vast majority seemed perfectly happy in plain clothes. However, the intensity amped up on Saturday night.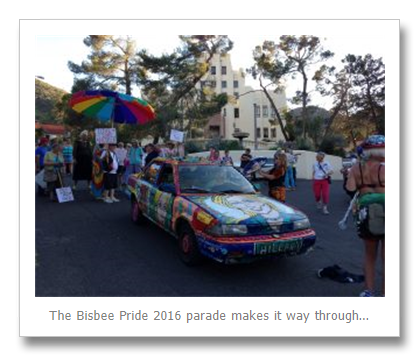 The parade brought people out on their porches and lining the streets to catch a glimpse. We watched from the deck of a local restaurant, snapping photos of the colorful floats and costumes as they passed by, then followed the action into the Brewery Gulch area where bands and deejays played and the friendly crowd partied well into the night. We didn't make it to bed until 2:00 a.m.
Despite the late night, we actually did make it to the Twisted Sisters Bingo game on Sunday morning and enjoyed some fantastic bloody marys. It was a great way to cap off an awesome weekend.
It's worth mentioning that whether you're attending a pride festival or not, Bisbee is still a wonderful town to visit. If you live in Arizona, you really owe it to yourself to go. It was recently named a Best Historic Small Town in America by readers of USA TODAY, and in February, Sunset magazine named Bisbee as the Best Small Town of 2016. Our family has visited Bisbee a handful of times, so going during a pride festival really gave us an opportunity to see it from a fresh perspective, and truly it gave us a reason to love it even more.
If you're intrigued by the idea of a family vacation to a pride festival, I would offer a couple of caveats. Our children are older, ages 16 and 19, so they weren't shocked or confused by the adult concepts they encountered. Plus, with our oldest being gay, we had an obvious connection to what was going on and, with several extended family members who are gay, we're accepting of LGBT people in general. Every family is different. My recommendation would be to gauge your own family's comfort level before attending such an event together. Our encounter was very positive and we experienced something totally outside the norm for us. We made some great memories. But best of all, our son got to experience Bisbee Pride with his family, a loving show of support that he can carry with him for a lifetime.