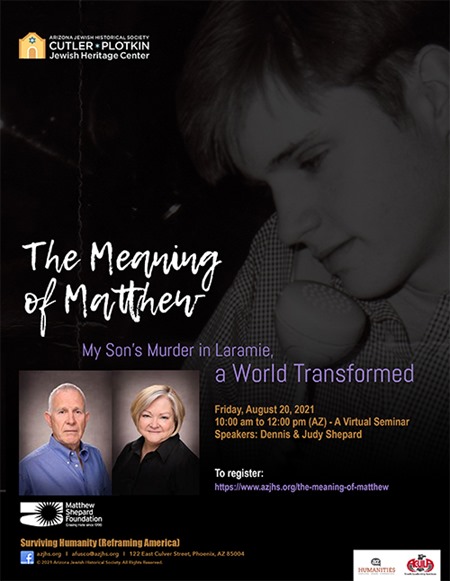 On Friday, August 20th, the Arizona Jewish Historical Society (AZJHS) will host a special virtual presentation by Judy and Dennis Shepard, the parents of Matthew Shepard, a gay American student at the University of Wyoming who was murdered in a hate crime in October 1998. Matthew's death moved many thousands of people around the world to attend vigils and rallies in his memory. The Arizona Jewish Historical Society will help to honor Matthew's memory by making a humanistic/emotional connection via his parents.
Judy and Dennis decided to turn their grief into action and established the Matthew Shepard Foundation to carry on Matthew's legacy. The Foundation is dedicated to working toward the causes championed by Matthew during his life: social justice, diversity awareness & education, and equality for gay, lesbian, bisexual, and transgender people.
The AZJHS will virtually host Judy & Dennis Shepard as part of our Surviving Humanity series, which expands our emphasis on Holocaust Education to examine other acts of hatred, genocide, and persecution. "These speaker seminars are very important to help the student to learn from the primary source," says Dr. Lawrence Bell, Executive Director of AZJHS.
This series is part of a larger campaign by the AZJHS to create a permanent Holocaust education center on its current campus. This new Center for Hope, Humanity and Holocaust Education will provide an inclusive and collaborative space to inspire new ideas, encourage open dialogue and promote hope, human dignity and respect.
If you would like to participate in this program or future programs as a part of this series, please contact AZJHS Education Coordinator, Tony Fusco at afusco@azjhs.org
Program Date: Friday, August 20th at 10am
Location: Virtual – Online via Zoom
Cost: Free Registration Required. Email afusco@azjhs.org to register
Website: https://www.azjhs.org/
Facebook: https://www.facebook.com/cpjhc
About Arizona Jewish Historical Society
The Arizona Jewish Historical Society (AZJHS) is situated on the restored site of the original Temple Beth Israel building (built in 1921), now known as the Cutler-Plotkin Jewish Heritage Center.
The AZJHS sponsors public exhibitions, documentary film series, book discussions, lectures and seminar and hosts a series of programs pertaining to Jewish history and culture, including the Holocaust. It also offers genealogy research, has a large community archive as well as event space and gardens for private functions. Recognized as a Phoenix Point of Pride, AZJHS is dedicated to preserving and celebrating the rich heritage of Arizona's Jewish communities, educating the public about Jewish contributions to Arizona and American life, and promoting awareness of our state's diverse history through arts, culture, and educational programs.
###
Funding for this program is provided in part by Arizona Humanities, Arizona Commission for the Arts, and the City of Phoenix Office of Arts and Culture.
###