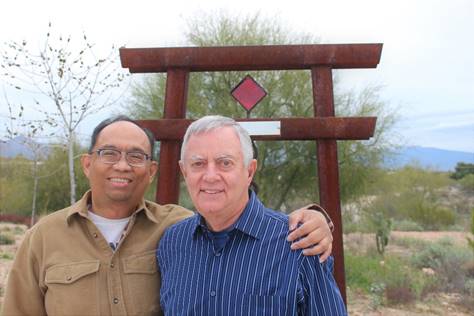 Centennial, Colorado—Jon Stetson and Noel Floresca of Tucson, Arizona, have been selected to receive the Center for Health and Hope's 2019 Leadership Award for their extraordinary volunteer service in Southern Arizona's HIV community.
The award will be presented during the 5th annual Swinging@AIDS Benefit weekend featuring a concert and golf tournament on March 22 and March 23, 2019. "They epitomize the highest values of compassion, care, and service," stated the Rev. Dr. Donald E. Messer, Executive Director of the Center for Health and Hope. "Together they are a living witness of courageous advocates seeking to conquer HIV and AIDS in our time."
Scott Blades, the Executive Director of the Tucson Interfaith HIV/AIDS Network (TIHAN), commented, "Jon and Noel are among the most giving and caring volunteers our community has seen. Their efforts over the past 20 years have brought awareness, hope, and healing to so many. We're so happy they're being honored–this recognition is so well deserved."
Jon (pictured above, right) and Noel (pictured above, left) have been life partners for 22 years, and through all that time, they've been a key part of Southern Arizona's HIV community.
Jon spearheaded the reconciling movement at St. Francis in the Foothills UMC, and has also worked for inclusiveness and welcome in other congregations and within the United Methodist conference. When an HIV ministry began at St. Francis in the 1980s, Jon was a key of it, helping with HIV education and also serving on CareTeams helping people with AIDS in their final days.
Not long after they met, Noel Floresca joined TIHAN. Noel, who is HIV-positive, was experiencing a number of health concerns, even having to spend three months in the hospital. TIHAN matched him with a CareTeam of supportive volunteers, and as his health improved, so did his engagement with TIHAN. After a few years, Noel transitioned from being the recipient of the CareTeam to being one of the volunteers on the CareTeam, helping support other people with HIV. With the support of his partner Jon and family, Noel wanted to give back to express his gratitude.
Noel also started volunteering in the TIHAN office, and was one of a small group of people who founded Poz Café. TIHAN's lunch program that has now served over 26,000 meals. Both Jon and Noel have been volunteering in Southern Arizona's HIV community for more than 20 years. They've helped in multiple ways, including leading HIV education, training volunteers, answering phones, doing data entry, helping with handyman work, volunteering at Poz Café, helping with newsletter mailings, serving on TIHAN committees, presenting at TIHAN Living Well with HIV classes, volunteering at fundraising events, and being friends and providing emotional and social support for people with HIV.
For more than 20 years, Jon and Noel have shared their time, talents, and treasures in support of the HIV community in Southern Arizona, and the Center is honored to recognize their efforts with the 2019 Leadership Award.
Past recipients of the Center's Leadership Award include Rev Charlie Arehart, Kevin Carmichael MD, and Linda Girard RN.
The 5th Annual Swinging@AIDS benefit Golf Tournament will be held on Saturday, March 23 at the El Conquistador Golf & Tennis at the Oro Valley Community Center, and the Benefit Concert featuring Heather Hardy and the Lil' Mama Band will be at Monterey Court on Friday, March 22 at 7:00pm. Details are available at swingingataids.org
ABOUT THE ORGANIZATIONS
The Center for Health and Hope (www.centerforhealthandhope.org), based in Denver, addresses the challenges of the global HIV and AIDS pandemic and related health needs in the world through programs of awareness, education, prevention, care, and treatment. The Center challenges attitudes and actions that contribute to stigmatization and discrimination of persons infected and affected by HIV and AIDS. For more information, contact Executive Director Rev. Dr. Don Messer (303) 877-1955 or globalaids@gmail.com
Since 1994, TIHAN–the Tucson Interfaith HIV/AIDS Network (www.tihan.org), has been organizing volunteers, businesses, organizations, and faith communities to respond to the HIV/AIDS health crisis. In addition to HIV awareness and stigma reduction programs, TIHAN helps support people with HIV to live as well as possible. For more information, contact Executive Director Scott Blades at (520) 299-6647 ext 202 or scott@tihan.org