Gay Southern Arizona Directory
BISBEE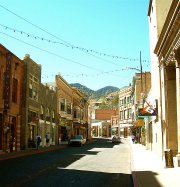 Bisbee, 90 miles southeast of Tucson and nestled amongst the Mule Mountains, is the picturesque county seat of historic Cochise County. The community was founded in 1880 and named after Judge DeWitt Bisbee, a financial backer of the Copper Queen Mine.
Once known as "the Queen of the Copper Camps", this Old West mining camp proved to be one of the richest mineral sites in the world, producing nearly three million ounces of gold and more than eight billion pounds of copper, not to mention the silver, lead and zinc that came from these rich Mule Mountains. By the early 1900s, the Bisbee community was the largest city between St. Louis and San Francisco.
Bisbee, with a population of over 20,000 people in the early 1900's, had become one of the most cultured cities in the Southwest. Despite its culture, however, the rough edges of the mining camps could be found in notorious Brewery Gulch, with its saloons and shady ladies. Brewery Gulch, which in its heyday boasted upwards of 47 saloons and was considered the "liveliest spot between El Paso and San Francisco". Bisbee offered other recreational pursuits in that it was home to the state's first community library, a popular opera house, the state's oldest ball fields and the state's first golf course.
In 1908, a fire ravaged most of Bisbee's commercial district along Main Street, leaving nothing but a pile of ashes, but the residents of Bisbee quickly began reconstruction and by 1910, most of the district had been rebuilt and remains completely intact today.
Bisbee was a thriving community until the large scale mining operations became unprofitable in the mid 1970's. As mining employees left to go elsewhere, many artistic free spirits found Bisbee an ideal, attractive, and inexpensive location to settle and pursue their artistic endeavors. The small town's legacy has long been preserved not only in its architecture and mining landscape, but is world-renowned for its diverse minerals and wealth of copper. Although its mines closed in the 70s, a museum has welcomed, educated and entertained more than a half-million visitors ever since. Featured among its exhibits is "Bisbee: Urban Outpost on the Frontier", an in-depth look at the depths — and heights — to which miners and settlers went to carve a community and a living out of rock.
Today Bisbee has evolved into an attractive artist colony and retirement community, known for its relaxed quality of life. Travelers from all over the world come to Bisbee to savor its unique charm… an uncommon blend of creativity, friendliness, style, romance and adventure — all wrapped in the splendor of the Old West. To stop in Bisbee is to stop in time. Nestled in the mile-high Mule Mountains of southern Arizona, Bisbee has maintained an Old World charm seldom found anywhere in the United States.
The fine collection of well-preserved turn of the century Victorian structures are full of old west history and copper mining lore. Old miners' boarding houses have been refurbished into many charming small bed and breakfast establishments, of which no two are alike. Former saloons are now quaint shops, antique stores or art galleries, cafes and restaurants.
Come stay in Bisbee. Stroll its sidewalks and find delight in the many art galleries, gourmet restaurants, coffee houses, book stores and specialty shops. Visit the charmingly restored neighborhoods of Victorian and European-style homes perched miraculously on the hillsides. Unwind…relax…and find soothing respite from your everyday world.
The most popular activity in Bisbee is the Queen Mine Tour, a trip down into the now inactive copper mine. Bisbee's Queen Mine was once one of the richest copper mines in history when the mine originally opened in 1877. The mine eventually closed when mining operations were discontinued in Bisbee in the mid—1970's. The Queen Mine opened once again as a tour for visitors in 1976, nearly 100 years after the mine originally opened. Visitors don yellow slickers, hard hats, and miner's lanterns as they descent on the mine train deep into the mine and experience the life of miners as they toiled in the subterranean tunnels.
Bisbee is estimated to be 60% LGBT and has there Annual Pride event Fathers Day Weekend June. The whole Bisbee community is very accepting of the LGBT community as there are no gay bars but the bars in Bisbee all are welcome and if you like that man or woman and want to kiss in front of straight people ? Go on ahead, they might give you pointers on being a better kisser. For more info go to www.bisbeepride.com
SANTA CRUZ REGION " CAPITAL OF BIRD WATCHING"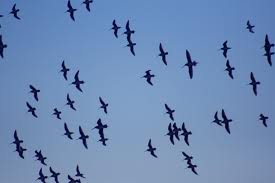 If you live and bird in southeast Arizona, you know that one of the most rewarding birding areas in the United States is right here. Of the 914 or so bird species recorded for the United States and Canada, individuals of more than 400 species spend some time each year in southeast Arizona, with a total recorded list of around 525 species. We are third only to the coastal states of Texas and California in terms of species diversity.
For more info on Bird watching visit www.Tucsonaudubon.org
TOMBSTONE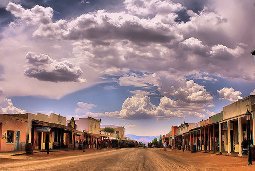 "The Town too Tough to Die," Tombstone was perhaps the most renowned of Arizona's old mining camps. When Ed Schieffelin (SHEF•e•lin) came to Camp Huachuca (hwah•CHEW•kuh) with a party of soldiers and left the fort to prospect, his comrades told him that he'd find his tombstone rather than silver. Thus, in 1877 Schieffelin named his first claim the Tombstone, and rumors of rich strikes made a boomtown of the settlement that adopted this name.
Days of lawlessness and violence, which nearly had then-President Chester A. Arthur declaring martial law in Tombstone and sending in military troops to restore order, climaxed with the infamous Earp-Clanton battle, fought near the rear entrance of the O.K. Corral, on October 26, 1881. Over the course of 7 years the mines produced millions of dollars in silver and gold before rising underground waters forced suspension of operations.
After cashing in on the Arizona bonanza, Ed Schieffelin went back to the mining life he knew so well. He prospected in Alaska in 1882, and later in the Pacific Northwest.
Schieffelin died in Grant County, Oregon, on May 14, 1897, at the age of 49. At his request, he was returned to Tombstone for burial, nine days after his death. He was afforded a grand funeral at Schieffelin Hall. He was laid to rest on a hillside about a mile from town (beneath a marker in the shape of a miner's claim).
During World War I, Tombstone was a major producer of manganese for the government. In World War II, Tombstone was extracting lead for the cause. After both conflicts, Tombstone faded into obscurity, just to be resurrected at a later time. The citizenry of Tombstone decided rather than depending on a vanishing mining industry, they would focus their time and energy on tourism and restoration. Good call!
Many of Tombstone's historic buildings are within an area bounded by Fremont, 6th, Toughnut and 3rd streets. Among them are St. Paul's Episcopal Church, built in 1882; the Crystal Palace Saloon, one of the most luxurious saloons in the West; and the Tombstone Epitaph building, where the oldest continuously published paper in Arizona is still being printed. Western printing history exhibits in the front office are free to the public.
Truly a Historical American Landmark, Tombstone is America's best example of our 1880 western heritage, which is well preserved with original 1880's buildings and artifacts featured in numerous museums.
TUBAC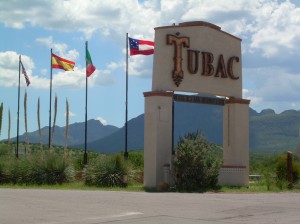 Tubac is a nice road trip to take, as it is only two and a half hours from Phoenix or just 50 minutes from Tucson. The landscape is high desert with cottonwood and mesquite forests. Tubac boasts temperatures several degrees cooler than both Tucson and Phoenix, making a nice little getaway.
As Arizona's first European settlement, the village of Tubac has seen its share of history and change. First settled in 1752 when Spanish soldiers built a presidio, Tubac also bears evidence of mammoth hunters, who preceded the O'odham peoples (formerly known as the Pimas and Papagos). Five flags have flown over the town; Tubac has been:
*An Indian community
*A Spanish Colony
*Part of the New Mexico Territory
*A Mexican community
*An Arizona Territory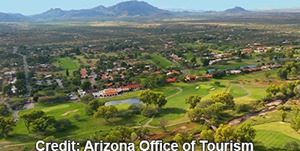 Nestled between the Tumacacori and Santa Rita mountain ranges, Tubac is a small community known as the place where art and history meet. Tubac has since transformed into the premier destination in Southern Arizona for culture, history, and art.
Spend some time in this Spanish Presidio turned artist colony, where creativity is as present in the galleries and shops. Recently Tubac has won USA Today 10 Best Readers' Choice 2021 and 2022 "Best Small Town Arts Scene!"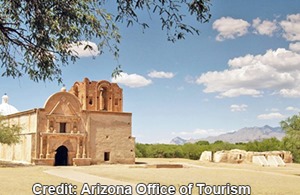 Tubac offers an astonishing array of premium galleries, unique shopping, fine art, and dining. Here, one can find world-renowned birding, hiking (or strolling), biking, holistic health and spa treatments, wine tastings, and art classes. Tubac is also home to 27 gorgeous holes of golf at the Tubac Golf Resort & Spa. Another amazing property to stay overnight is the Tubac Inn that is within walking distance of Tubac's shops and restaurants. Tubac Inn glows like peach, making a rich background for the chile ristras hung along its façade and the French doors painted in vibrant blue of Mexican tile. Adding to Tubac's appeal are the historic Presidio State Park and the nearby Tumacacori National Historical Park, which offer
doorways into Arizona's rich history and culture.
A day in Tubac seems like a wondrous dream, walking among galleries, paintings, sculpture, ceramics, and photographs. The unique regional fashion, leather, crafts, antiques, and jewelry beckon your senses and eyes to the beauty and craftsmanship of yesterday and today. The Village atmosphere takes you a world away from urban life. Whether you come for the day or stay overnight, you will simply love Tubac.
PATAGONIA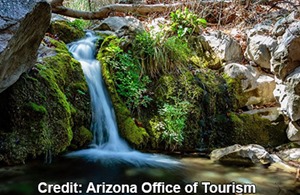 Tucked away in the rolling hills of southeastern Arizona is a hidden treasure. Spend time outdoors, then sample the local cuisine and arts scene in this small town south of Tucson.
Set your sights on birds. Patagonia sits along a prime avian migratory path and is part of the Sky Islands—multiple mountain ranges that rise from 6,000 feet to nearly 10,000 feet high and support five diverse habitats—boasting more than 7,000 species of plants and animals.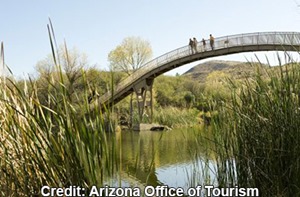 A great place to spend outdoors is Patagonia Lake State Park. An excellent place for fishing, water skiing, camping, picnicking, and hiking all year round, the park offers a campground, beach, picnic area with ramadas, tables and grills, a creek trail, boat ramps, and a marina.
After some time in nature, try one of this southeastern town's restaurants, get inspired by local art and explore more things to do in Patagonia, Ariz.
YUMA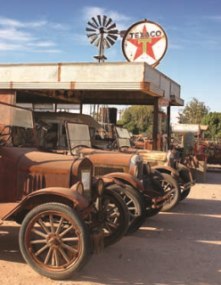 Yuma is nestled in the Yuma and Gila valleys of southern Arizona, offering a climate that blends pleasant desert sunshine with the cool waters of the Colorado River. Our clean air affords residents and visitors alike a year round vista of surrounding rugged mountains. Ranked by Money Magazine as one of the top places to live in the United States, no wonder many of the people who visit our community one day return to raise a family, retire in comfort, or simply take advantage of being part of one of America's fastest growing cities.
We put out our welcome mat every day. Mild winters and temperate summers make Yuma an ideal destination for all your vacation needs. We offer a variety of recreational activities and cultural attractions. Enjoy our soothing waters or lush golf courses, our diverse selection of restaurants & shopping boutiques and our natural wildlife and breathtaking scenery.
VISITING MEXICO
Please note the above cities are a very short distance to MEXICO. If you plan to visit Mexico from these cities Please read the following to prepare for your visit.
For U.S. citizens, passports are required for visits to Mexico.
For further information, contact U.S. Immigration Service at (928) 627-8816.
PETS
Usually allowed with verification of rabies vaccination within last six (6) months.
U.S. CUSTOMS
American citizens/residents must declare citizenship and purchases when re-entering the U.S. Merchandise up to $400 per person is duty-free. One quart of liquor and one carton of cigarettes is allowed duty-free. Purchases exceeding $400 will be taxed.
Mexican border authorities issue temporary vehicle permits for travel into Mexico. The owner/lessee must be in vehicle, and must allow inspection of: Appropriate immigration form, Certificate of Title, vehicle registration, rental leasing form or bill of sale, proof of employment with firm if driving company car, a valid driver's license issued outside of Mexico and an international credit card, i.e., Visa, MasterCard, American Express.
RADIO
Citizen-band radios are helpful when traveling in rural areas. Three channels have been established for tourists. Channel 9 for emergencies; Channel 11 for tourist caravans; Channel 13 for vehicle-to- vehicle conversation.
INSURANCE
It is strongly recommended that Mexican Auto Insurance be purchased BEFORE entering Mexico. It can be purchased at the border or in Yuma prior to departing.