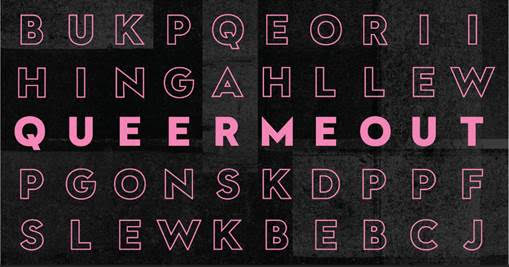 Scottsdale, Arizona, May 20, 2019 – W Scottsdale is raising the volume on important issues of equality and acceptance. On Thursday, June 13, the hotel will host Queer Me Out, a global speaker series held at W Hotels Worldwide featuring live Q&A panels with influential members of the LGBT community. Each event features passionate panel discussions that dive into hot-button issues as well as the work and play of experts and icons.
The W Scottsdale Queer Me Out panel will highlight the topic of "Breaking Barriers in Business; LGBTQ+ in the Workplace." The event, which coincides with Scottsdale LGBTQ Pride Month, will kick off at 6:30PM and is open to the LGBT community and allies. Admission is free, but RSVPs are required.
Through the Queer Me Out speaker series on June 13, W Scottsdale will lift up leaders in the LGBTQ community who otherwise might not have a platform to deliver their message and have their voices heard. The panelists and moderators are hand-selected from diverse industries, each representing the core values and passion pillars defining W Hotels: design, art, music and philanthropy.
Queer Me Out will feature a Q&A panel comprised of Jericho Galindo, Mister Phoenix Pride; Eva Steele, Phoenix Pride Program Manager; and NOH8 Campaign co-founders Jeff Parshley and Adam Bouska. The panel will be moderated by Chad Brittian, entrepreneur and CEO of NVS Design, Inc.
Panelists will share personal stories, insight and anecdotes to inspire, educate and encourage audience attendees. Guests at the event will also be able to present questions to the panel during an open Q&A. Once the panel is concluded, the event will shift into the W Scottsdale Living Room for a cocktail party, live music and an exclusive NOH8 photoshoot, where attendees can come together to snap photos in solidarity and support of equal rights.
The Queer Me Out event schedule is as follows:
6:30PM – 7:00PM: Doors Open + Cocktail Hour. Enjoy an open bar with complimentary beer, wine and light passed appetizers before the panel gets underway.
7:00PM – 7:45PM: Queer Me Out Discussion Panel – "Breaking Barriers in Business; LGBTQ+ in the Workplace"
7:45PM – 8:00PM: Open Q&A
8:00PM – 9:00PM: NOH8 Photoshoot & Cocktail Party in W Scottsdale Living Room. Sip cocktails, share stories, and snap photos with new friends and allies at the NOH8 Photoshoot,
For more information on Queer Me Out at W Scottsdale, or to RSVP, visit https://queer-me-out-event2019.eventbrite.com or call (480) 970-2100. Event attendance is free, but RSVP's are required.
###
About W Scottsdale (www.wscottsdalehotel.com)
W Scottsdale marks the debut of W Hotels in Arizona. This sultry Southwest oasis, where innovative design mixes with urban sophistication, features 236 guest rooms including 39 lavish suites. A true insider escape, W Scottsdale boasts Arizona's only Sushi Roku restaurant, and W Hotels The Store and offers three chic destination bars – the W Living Room, Shade Lounge and Sunset Lawn. Located in downtown Scottsdale, W Scottsdale provides guests access to discover the city's high-profile shopping, innovative restaurants, eclectic arts district and vibrant nightlife. Signature services and amenities include the Whatever/Whenever® concierge service, Wheels® valet, FIT® fitness center, WET®, WIRED Business Center and P.A.W. – Pets Are Welcome™. For more information, visit www.wscottsdalehotel.com or call to schedule a reservation 877 W HOTELS.
For more information, please contact:
Christina McGoldrick
Victoria King Public Relations
christina@vkpr.com / (310) 207-5175