Relocating to Gay Arizona
"Ranked #1 LGBTQ Friendly RED State"

For those considering moving to Arizona, this guide will advise on what cities are welcoming, how to prepare for our extreme heat, and provide insight on what makes Arizona such a desirable place to call home.
The population of the state of Arizona increased by 7.3% between 2010 and 2016. It's one of the 10 fastest-growing states in the country, with Phoenix being the fastest growing city and Tucson ranked third in the country for job growth. One of the reasons behind this is the cost of living is one of the lowest in the country.
Arizona has a reputation of being conservative and passing controversial laws. Arizona has been solidly in the Republican column for years, but recently there's been talk that the Grand Canyon State could be the newest swing state. Some analysts argue that the fact that around 31% of Arizona's population is Hispanic means Democratic candidates have more of a shot than in previous years. In fact, one of the friendliest LGBTQ cities in the U.S. is located in Arizona.
Top 8 LGBTQ Friendly Arizona Cities
Bisbee
Tucson
Phoenix
Tempe
Sedona
Flagstaff
Cottonwood
Jerome
Moving to Gay Friendly Phoenix Area
According to Realtor.com, Phoenix currently ranks as the number six "Most Popular City to Live," with Tucson trailing not too far behind in the number nine slot. A large factor for gains in popularity for Phoenix can be attributed to the attractiveness of the outdoor activities available as well as the strong business climate. Phoenix has strong economic sectors, such as: trade, transportation, utilities, government, professional, and business services – not to mention the high volumes of leisure and hospitality workers. With the large influx of population to call the likes of Maricopa County home in the past year, the Phoenix area continues to climb its way to the top as being a prime location for relocation.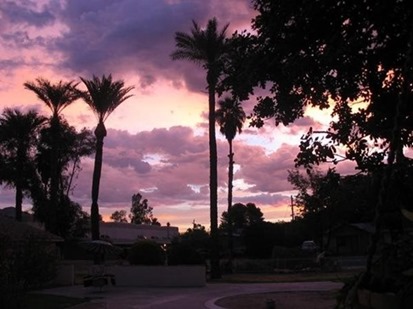 The LGBTQ community is very present in Central Phoenix, also known as Uptown and Midtown just north of Downtown Phoenix. This area starts from Roosevelt Street going north to Glendale Avenue, and 15th Avenue going east to 16th Street.
Tempe is just east of Downtown Phoenix; Tempe exudes its own personality. Refreshingly offbeat, Tempe's a fun town that hosts family-friendly festivals, welcomes outdoor activities, and is the proud home of Arizona State University. Tempe cares about community, stresses an active lifestyle, and emphasizes a laid-back atmosphere. Tempe received a 100% in the Municipal Equality Index produced by the Human Rights Campaign.

12 Things That Make Phoenix Unique
Phoenix has a thriving tech scene. The Valley of the Sun is attracting plenty of tech start-ups such as software and web developers, along with a growing Stem Cell research center.
The baseball, football, and soccer stadiums are air-conditioned. You don't have to worry about sweltering heat while watching the Arizona Diamondbacks, Arizona Cardinals, or the Phoenix Rising FC.
Our Mexican food is amazing!
Phoenix does boast some impressive and varied Mexican food.
Look out for urban wildlife.
The urban wildlife in Phoenix is either perilous or a perk of living in Phoenix. Coyotes, javelina, geckos, bobcats, snakes, scorpions, tarantulas, turtles, Gila Monsters, and a range of birds all make life in Phoenix just a little more exciting.
Love those haboobs! Monsoon season, beautiful and dangerous.
Phoenix has a dry heat and averages 8 inches of rain a year with most of in Monsoon Season from mid-June to the end of August. High winds, severe downpours, haboobs (dust storms), flash flooding, and picturesque lighting/thunder are all possibilities during the monsoon season. Drive safely and look out for weather warnings.
Phoenix is HOT!
The summer temperatures in Phoenix range from 104 to 119. Phoenix triple digits start around mid-April and normally do not get below 100 until mid-October.
Arizona has its own time zone.
No need to set you clocks back in the fall and forward in the spring. In Arizona I am not sure if we know how to set a clock. Arizona does not observe Day Light Savings with the exception of the Navajo Nation. They used to say we are Mountain Time all the time but that really gets confusing so now it is called Arizona Time.
Phoenicians hibernate in the summer.
Acclimating to the desert climate takes longer than one might think and holidays have a unique feel compared to other parts of the U.S.
For example, on Independence Day Chicagoans BBQ and picnic while Phoenicians watch movies inside with the air-conditioning blasting. At 10:00 p.m. however, they can be found watching fireworks from swimming pools.
The same goes for winter holidays. Bostonians enjoy hot cocoa by a warm fireplace while Phoenicians BBQ and drink margaritas in the sunshine.
To make a long story short, residents in colder climates hibernate in the winter, while Phoenicians hibernate during the summer.
Reverse Lanes (dubbed "Suicide Lanes" by locals).
This system, running north and south bound on 7th Street and 7th Avenue can be confusing and is quite controversial. In 1979 the "Suicide Lanes" were born with the goal of easing traffic into and out of downtown Phoenix.
During rush hour, the middle lane, which is normally a two-way left-turn lane, opens to through traffic. Monday-Friday between 6 a.m. and 9 a.m., the traffic flows south; between 4 p.m. and 6 p.m., it flows north. During those times, left turns are banned at most intersections.
The reverse lanes run from McDowell Road to Northern Avenue on Seventh Avenue, and McDowell Road to Dunlap Avenue on Seventh Street.
A Native of Phoenix?
While you may not find many native Phoenicians, as the valley grows there are more reasons for natives to stay. Today there are definitely more than there were 30 years ago. Most "transplanted" Phoenicians hail from Chicago, Minnesota, New York, and Southern California. Recently we have seen a growth in transplants from Seattle, San Francisco, and Florida.
Phoenix is close to both snow skiing and snorkeling.
The wonderful thing about Phoenix's location is that it is only half a day trip or less to a wide variety of diverse destinations. You can be in Flagstaff in 2 hours, Palm Springs in 3 ½ hours, Las Vegas in 4 ½ hours, and Los Angeles or San Diego in less than 6 hours. Mexico is only a short day trip as well. Puerto Peñasco, Mexico also as known as Rocky Point, is a quick 3 ½ hour drive.
Ranked as a dog-friendly city.
Phoenix boasts a long list of restaurants and cafes with extensive dog friendly outdoor dining, along with bars where dogs can sit alongside their owners' bar stool. In Central Phoenix there are 2 dog parks within Steel Indian School Park, one for small dogs and one for large. Phoenix has an abundance of independent and luxury pet stores, dog washes/salons, and veterinary clinics. The city has no shortage of retirees who may offer dog sitting or walking services. Not to mention PETSMART® is based here.
Preparing for Central & Southern Arizona Summers!
The triple digit heat in Arizona can be problematic, and not just to humans and animals but also to automobiles, bikes, and homes.
Automobile Prep: When parking vehicles keep the following in mind: When outdoor temperatures reach 110 degrees, your car may reach 220 degrees. A) During monsoon avoid parking near or under trees. B) Crack your windows. C) DO NOT leave children or pets in your vehicle. The heat can kill in minutes. D) Gas up in the early morning or in the evening after dark.
Basic maintenance of your vehicle is also imperative to prevent breakdowns in the sweltering heat. A) Check your tires. Tires with low tread can blow easily in the extreme heat. B) Check your battery. The average battery life in the desert is 2 years or less.
Outdoor Activities: As they say early bird gets the worm, so it is best to finish errands and outdoor activities before 11:00 a.m. There are news reports almost daily of Fire Departments rescuing stranded or injured hikers. Be smart. Exercise early in the morning and retire to an air conditioned environment by 10 a.m.

Air Conditioning is a Must: Electric bills will elevate during summer months, especially if the thermostat is not set properly. Most new residents set the temperature higher during daytime hours and reduce it dramatically in the late afternoon, thinking this will save money. This method will make the unit work harder during peak hours. This added stress on the a/c unit may result in the need for extra repairs.

Below are pointers to help cool homes and save money.

Each electric utility company in Arizona offers a savings plan. For example during peak hours from 3 p.m. to 6 p.m. reduce your power use to save money. Consider purchasing a programmable thermostat such as a Nest Learning Thermostat®. They can provide a significant savings on electric bills and also offer peace of mind.

This example A/C schedule for setting the thermostat Monday through Friday can help save an average of $40 to $60 each month.
8:30 a.m. set to 76 degrees
2: 45 p.m. increase to 82 degrees
6:15 p.m. set to 78 degrees
10:00 p.m. set to 72 degrees

Although the manufacturer recommends changing the filter every three months, changing it on a monthly basis will help air flow and allow the A/C unit to run efficiently, especially during summer months.

Top 5 safety precautions:
1. Drink plenty of water, avoid alcohol.
2. Apply sunscreen liberally.
3. Wear a hat.
4. Wear light colored clothing.
5. Sunglasses are a necessity.