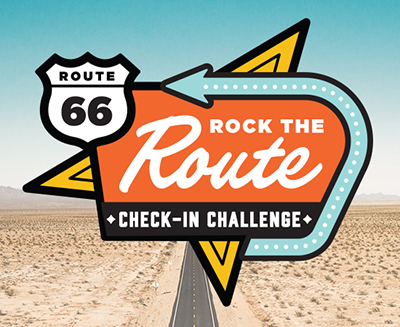 U.S. Route 66, also known as the Will Rogers Highway, was a major United States Numbered Highway. Route 66 starts in downtown Chicago and goes through Missouri, Kansas, Oklahoma, New Mexico, Arizona and ends at the Santa Monica pier in California.
Route 66 was active in the state of Arizona from November 11, 1926, to June 26, 1985 until Interstate I-40 was completed. Fortunately, just as the official Route 66 designation faded from the U.S. highway system, an effort was underway to preserve Arizona portions of the road. Because of these efforts, today Arizona is home to the longest and best-maintained stretch of Route 66 anywhere, where you'll find a wigwam-shaped motel, a petrified forest, kitschy shops, a street corner dedicated to an Eagles song, and so much more. US 66 covered a total of 385.20 miles through Arizona and the Grand Canyon State is considered one of the favorite Route 66 destinations.
Included in this article are a few of our favorite places and scenes along the Mother Road. As we approach nearly 100 years of Route 66 there are many plans in the works for the celebration. The Arizona Office of Tourism and Historic Route 66 Association of Arizona have launched a "Rock the Route" where you use the free, easily downloadable Route 66 Check-in Challenge Passport. Just check-in along the route and you will be automatically entered to win cool prizes.
Go to www.visitarizona.com/plan/road-trips/arizonas-route-66/ for more information.
HOLBROOK
Let's start from East to West in Holbrook, Northeastern Arizona. It's a canvas painted with mid-century Route 66 kitsch, Wild West characters, and unforgettable landscapes.
Cherished for its roadside Americana charm, Holbrook sits within the Painted Desert, a remarkable area of rocky badlands that stretches from the Grand Canyon to the Navajo Nation. It's one of Arizona's most dazzling and lonesome landscapes, with layered bands that change color seemingly every hour.
But back to that tepee. The whitewashed concrete and steel teepees are part of Wigwam Village, constructed in 1937 on Route 66. It's a blast for the kids – and nostalgic adults, too – to spend a night here. The vintage cars parked outside just add to the retro appeal.
Downtown, a self-guided walking tour starts at the courthouse visitor's center and introduces you to historical sites like the Bucket of Blood Saloon and the Blevins House, where a shootout between the gangsters and the sheriff occurred.
The vibrant history of the people is more than matched by the geological wonders here. Once native grasslands, the eroded, quiet beauty of the Petrified Forest is bewitching.
WINSLOW
Winslow has always been an important stop on Route 66, first popular with railroad travelers, and now with motorists and motorcyclists.
Whistling a tune known the world over is what you do when you're at Winslow's Standin' On a Corner Park, which capitalizes on the song's multi-decade fame. In the same block, you'll find the Old Trails Museum which houses memorabilia – much of it donated by citizens – that tells the history of a town shaped by American Indians and Western pioneers.
Considered among the finest trackside hotels, La Posada was designed by Fred Harvey Company architect Mary Jane Colter for the Santa Fe Railroad. Stepping into this historic hacienda-style masterpiece, with its red-tiled roof, public gardens, and graceful arches, is like stepping back to a more elegant time. The restored rooms – graced by guests such as Amelia Earhart, Clark Gable, Will Rogers, and Jane Russel – feature Ponderosa Pine beds, Mexican tile, and Zapotec rugs. The on-site restaurant, the Turquoise Room, is considered one of the finest restaurants in the Four Corners region.
FLAGSTAFF
Enjoy all four seasons in Northern Arizona's largest city — located along historic Route 66 just 80 miles from the Grand Canyon.
Immerse yourself in the college atmosphere of laid-back Flagstaff. Visiting Flagstaff is perfect for getting outside and exploring historic sites. The city is equally well-known for recharging at local festivals and breweries.
Route 66 continues to bisect Flagstaff today and the road is lined with relics from the route's glory days. Travel its original path on a self-guided walking tour, "Walk This Talk," which begins at the historic train station and passes by classic drive-in motels and historic Flagstaff landmarks. Pedestrian signs at locations along the route notify you to call a toll-free number to hear pre-recorded oral histories at specific sites. Photo opportunities abound along the tour, including the downtown Route 66 mural and vintage motels.
WILLIAMS
Midway between Flagstaff and the Grand Canyon, Williams' small-town charms invite lingering. This gateway to the Grand Canyon boasts a vibrant historic downtown district, plenty of lodging and dining options, and access to outdoor recreation.
In 1954, U.S. Route 66 was expanded in Williams with two lanes running east and two to the west creating a loop to cruise around the town. Drivers would cruise endlessly from one end of town to the other, showing off their cars and checking out others' rides. You can still drive the same loop through the town of Williams and get a taste of the old Route 66 days, especially at night when the street glows from the light of saloons', restaurants', motels' and shops' neon lights.
SELIGMAN
The Seligman of today owes a lot to Angel Delgadillo, a soft-spoken Seligman barber who led efforts to preserve Route 66. When the town was bypassed by Interstate 40 in 1978, he formed the Historic Route 66 Association of Arizona. In 1987, Seligman became the Birthplace of Historic Route 66 when the State of Arizona acknowledged the stretch of road from Seligman to Kingman as Historic Route 66. The designation regenerated interest in Route 66's old-fashioned Americana, and Seligman remains as the starting point of the longest surviving section of America's iconic road, which runs 160 miles to Topock, Arizona.
Seligman embraces yesteryear. Several colorful and quirky gift shops—including Angel & Vilma Delgadillo's Original Route 66 Gift Shop, The Historic Seligman Sundries, Return to the 50s, Rt. 66 Hippie Cricket and The Rusty Bolt—sell soda shop classic Coca-Cola memorabilia, license plates and road signs, records best listened to while wearing a poodle skirt, James Dean iconography, and Elvis everything. Get your kicks and also, your knickknacks.
HACKBERRY
Hackberry General Store is a museum of old Route 66 that has been called the "mother lode of Mother Road memorabilia." No gas is sold but vintage pumps from various stations stand outside. Take a walk through the vintage diner, have a bottle of Route 66 Beer (root beer), and find a special souvenir of your trip. Take a stroll through the yard decorated by tin signs including some original Burma-Shave road signs. The 1957 Red Corvette is a favorite photo spot for many visitors.
KINGMAN
A block north of Route 66 in Kingman, on Beale Street, you'll find the iconic "Kingman Club" at its former home, now reopened as Rickety Cricket Brewing. The neon sign evokes memories of the early years of downtown Kingman, which the club called home for 70-plus years. Many Route 66 travelers make a point of finding it, making it one of the most-photographed sites in Kingman.
Kingman is very proud of their history as they host the Route 66 Fest. A celebration of all things Route 66 and is hosted in beautiful Lewis Kingman Park, a historic park that was one of Arizona's few shady rest stops along the Mother Road.
The event will feature live bands, a beer garden serving regional craft beers, food and craft vendors, a motorcycle show, a classic car show, vintage camper show, Route 66 displays, fun activity zones, competitions, and children's activities. The 66 Fest is free for spectators and free public parking is in the adjacent lot at the corner of Andy Devine Ave (aka Route 66) and Fairgrounds Ave.
OATMAN
In the northwest corner of Arizona, discover a town full of rugged character…and burros.
Nestled in Arizona's rugged and remote wilderness, this tiny town's rich Wild West history comes to life with staged shootouts, wooden sidewalks and a bounty of burros that roam freely. At first glance, the wild burros of Oatman seem to steal the show but dig a bit deeper and you'll discover the town's raucous mining history and a vibrant main street that plays host to various events throughout the year.
Oatman is best known for its beloved burros—small donkeys descended from miners' beasts of burden. The town is home to more burros than people, and it's not unusual to see dozens of donkeys in Oatman wandering the main drag, sticking their heads through the rails along the wood-plank sidewalks, nudging people for treats and otherwise delighting visitors. The burro has become such an integral part of Oatman's identity that the town now plays host to an annual Burro Biscuit Toss, where residents and visitors alike compete to see who can throw a dried-out, gold-painted burro dropping the farthest.
VIDEOS