Gay Northern Arizona Directory
BULLHEAD CITY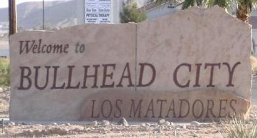 Bullhead City is located in Arizona's west-central Mohave County, on the east bank of the Colorado River near the juncture of Arizona, California and Nevada. It is the sister city to the popular gaming community of Laughlin, Nevada.
Bullhead City serves as the economic hub and retail-shopping center for Western Mohave County and Southeastern Clark County, Nevada. More than 5 million people travel through Bullhead City annually. The year-round sunshine makes it perfect for families, retirees and vacationers — whether they are looking to escape the winter cold or want to enjoy the area's vast summer water recreation opportunities.
COTTONWOOD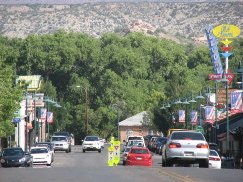 The Town of Cottonwood is surrounded by jagged mountains on the south and west, and to the north and east by mesas and buttes. Named for the beautiful Cottonwood trees that grow along the Verde River, the town grew from a small farming community to the Verde Valley's population center, called "the biggest little town in Arizona" by the late 1920's. At that time Old Town businesses supported residents and workers of many mines that operated in nearby communities.
Located just minutes from Sedona, Jerome and Clarkdale, Old Town Cottonwood is ideally situated near the Verde River offering a variety of recreational activities that include camping, horseback riding and fishing. Historic Old Town on Main Street is home to a number of gay owned and friendly antique shops, fine restaurants, wine bars and art galleries. Plus a multitude of wineries and vineyards, Dead Horse Ranch State Park, the Verde Canyon Railroad, and the Tuzigoot and Montezuma Indian Ruins. Visiting Old Town provides a spectrum of activities to please everyone.
FLAGSTAFF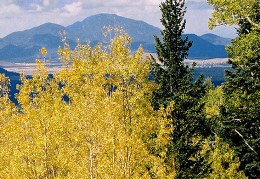 "Down the road" from one of the world's most impressive natural wonders, the Grand Canyon, Flagstaff is the ideal home base from which to spend several days exploring our exciting region. There are many good reasons for this.
The Grand Canyon is Flagstaff's most famous nearby wonder, but certainly not the only one. Many other no less remarkable wonders surround Flagstaff: Among them are the red rocks of Sedona, Meteor Crater, the San Francisco Peaks, Glen Canyon National Recreation Area, the Wupatki ruins, Sunset Crater, and numerous Native American communities.
Enjoyed for its cool summer weather, Flagstaff is also an exciting urban center that abounds with dining, shopping and nightlife opportunities, a unique arts and crafts scene, and a wide selection of quality hotels and inns.
A Destination for All Seasons, Flagstaff is a special place, combining a modern sense of discovery with a strong Western legacy echoing the days of our region's pioneer ranchers, railroad builders and lumbermen. Visitors from all over the world are attracted to our clean mountain air, year-round recreation, forest paths, lively entertainment scene, and 1890s charm.
Some of the West's most beautiful country surrounds Flagstaff, from the alpine forests of our San Francisco Peaks to the rugged deserts of nearby Native American nations. The Grand Canyon, Sunset Crater, Meteor Crater, and many archaeological sites are all within easy driving distance.
Flagstaff also boasts Lowell Observatory, the Museum of Northern Arizona, the Arizona Snowbowl ski resort, Pioneer Historical Museum, Riordan Mansion, and genuine Route 66 nostalgia.
GRAND CANYON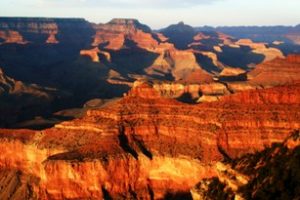 A national park since 1919, attracting more than five million visitors yearly, the Grand Canyon is the most visited national park in the United States. I think most visitors would agree when they first see the Grand Canyon, that it inspires a feeling of awe and wonder.
Environmentalist John Muir described its magnificence: "It seems like a gigantic statement for even Nature to make all in one mighty stone work. Wildness so Godful, cosmic, primeval, bestows a new sense of earth's beauty and size… But the colors, the living, rejoicing colors, changing morning and evening in the chorus to heaven! Whose brush or pencil, however lovingly inspired, can give us these? In supreme flaming glory of sunset the whole canyon is transfigured, as if the life and light of centuries of sunshine stored up in the rocks was now being poured forth as from one glorious fountain, flooding both earth and sky."
The Grand Canyon, with its powerful and inspiring landscape, overwhelms the senses through its immense size; 277 river miles long, up to 18 miles wide, a mile deep, and 1.2 million acres overall.
The park is home to numerous animals such as the California condor, mountain lions, cougars, rattlesnakes, elk, bald and golden eagles, bighorn sheep, and over 1,500 species of plants. It is one of the most complete archaeological sites dating back thousands of years. Sustaining these plant and animal communities, as well as carving the Canyon, is the powerful Colorado River, the lifeblood of the desert southwest.
You can tour the Grand Canyon by foot, mule, water, or by train. There are many trips, tours and packages it's difficult to sum up in one page but you will not be disappointed with any method you choose. Check out the Pride Guide Northern Arizona Activities button to find the companies that offer many services in the Grand Canyon.
JEROME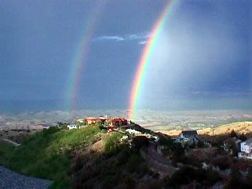 Located high on top of Cleopatra Hill (5,200 feet) between Prescott and Sedona is the historic copper mining town of Jerome, Arizona. Once known as the wickedest town in the west, Jerome was a copper mining camp, growing from a settlement of tents to a roaring mining community. Four disastrous fires destroyed large sections of the town during its early history, resulting in the incorporation of the City of Jerome in 1899.
Founded in 1876, Jerome was once the fourth largest city in the Arizona Territory. The population peaked at 15,000 in the 1920's. The Depression of the 1930's slowed the mining operation and the claim went to Phelps Dodge, who holds the claim today. World War II brought increased demand for copper, but after the war, demand slowed. Dependent on the copper market, Phelps Dodge Mine closed in 1953. The remaining 50 to 100 hardy souls promoted the town as a historic ghost town. In 1967 Jerome was designated a National Historic District by the federal government. Today Jerome is a thriving tourist and artist community with a population of about 450.
Jerome sits above what was the largest copper mine in Arizona and produced an astonishing 3 million pounds of copper per month. Men and women from all over the world made their way to Arizona to find work and maybe a new way of life. Today the mines are silent, and Jerome has become the largest ghost town in America.
Because a large part of Jerome has gay owned businesses, artists, citizens and such, it makes for a comfortable place for gays, both in couples and single, to shop, dine and hang out.
KINGMAN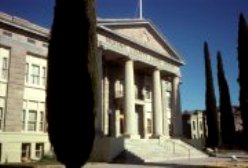 In October 1857, Lt. Edward Fitzgerald Beale and his experimental Camel Corps trudged across the present site of Kingman, Arizona surveying a wagon road along the 35th parallel. After the first travelers encountered hostile Indians in the area, Fort Mojave was established on the Colorado River. Off-duty soldiers scouted the hills and found gold and silver. Mining camps sprang up in the years to come and in the early 1870's cattle were driven in to take advantage of the lush grasses. Located in a natural basin, surrounded by basaltic hills it is ironic that Kingman was not established as a mining town but as a railroad town.
Today Kingman and the surrounding area has a population of about 40,000 people and is currently experiencing a growth rate of about 6% annually. Kingman has a highly rated hospital and several medical facilities as well as major shopping areas(with more being added). The public school system offers several elementary schools, a junior high school, two high school campuses and there are also charter schools in the area. Post-secondary education is provided by Mohave Community College and a branch of Northern Arizona University. Kingman is a site for industry with the Kingman Airport Industrial Park and other industrial sites located off of Interstate 40 just south of Kingman.
Recreational opportunities include golf courses, parks and trail systems. The Hualapai, Cerbat and Black mountains that surround Kingman offer numerous recreational opportunities. Mohave County boasts 1,000 miles of shoreline on the Colorado River, which includes Lake Mead, Lake Havasu, and Lake Mohave. These areas provide fishing, boating, swimming, and other water sports.
Fourteen miles southeast of Kingman is beautiful Hualapai Mountain Park, which is at an elevation of 6,700 feet. Offered there is overnight camping, picnicking, hiking and other activities.
There is much history in Kingman to know and view at such museums at the Mohave Museum of History and Arts, Locomotive Park, and the Famous Route 66 Museum. Near Kingman there are ghost towns and old mining town sites including Oatman and Chloride. These places are interesting to visit and they help preserve the heritage of the area.
LAKE HAVASU CITY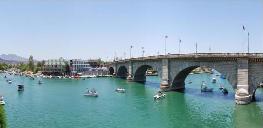 There is an ecological utopia in Arizona, and it is Lake Havasu. For travelers seeking unpredictable, rugged desert freedom, Lake Havasu City — nestled amidst craggy desert peaks on the Colorado River in northwest Arizona — represents a rare segment of quiet, jaw-dropping scenery.
Admirers of the outdoors will appreciate this region's stark beauty, embodied within the spectacular convergence of Lake Havasu's desert ecology, 450 miles of breathtaking shoreline and sparkling waters. Lacking crowds and swarming tourists, this small town offers travelers a unique opportunity to explore the drama of a desert habitat — offering everything from hiking and jeep tours to bird watching and exploring hidden trails with Indian petroglyphs. Warm, dry air, rich animal life, and good fishing, hiking and camping attract travelers every summer. But even with an influx of outdoor enthusiasts every season, solitude in a pristine cove or on a lonely hiking trail is readily accessible.
An essential part of playing in Lake Havasu City is planning at least a few hours on its most apparent showpiece — Lake Havasu. Internationally known as the "Personal Watercraft Capital of the World," Lake Havasu offers virtually every form of water-related activity. Bring your watercraft toys or rent a boat or jet ski for the day. Or if you prefer, take a cruise on an authentic paddlewheel boat and see firsthand why Lake Havasu is known as one of the most beautiful places in the world.
After your lake experience shop for trinkets and treasures in the authentic English Village, right under the world famous London Bridge. Dozens of restaurants offering a wide variety of menus await your arrival.
Shopping, dining, or just relaxing in the warm desert sun, Lake Havasu has something to offer for everyone!
PAGE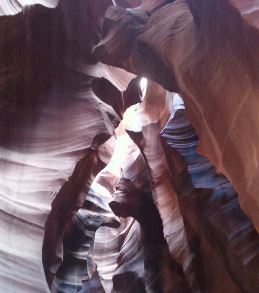 Page is your mecca for hiking, biking, boating and off-road adventure. A short seven miles from the water sports playground of Lake Powell, Page is your ideal base for exploring this exceptional region. Hike the striking wind and water carved beauty of Antelope Canyon. Set out on your Colorado River rafting trip. Take in the dramatic vistas of Lake Powell and Glen Canyon Dam.
Page stands at the center of the world renowned Grand Circle, a remarkable collection of parks, monuments, historical sites, and prehistoric Indian ruins that include may of the true geological icons of the West.
Located beside Navajo Tribal lands, Page is rich in geographic, cultural and historic marvels to explore. Make sure you check the Arizona Pride Guide for gay friendly Page businesses to help you choose the adventure in this amazing region.
PRESCOTT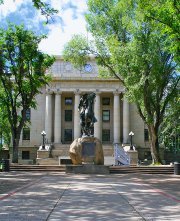 Prescott is located in the cool pines of northern Arizona and is the hub for several scenic loop tour drives and day trips to northern Arizona's treasures.
While in Prescott spend a few days exploring Arizona's first territorial capital. A historic walking tour of downtown Prescott will take you on a journey through time. Shopping, dining and entertainment are plentiful along Whiskey Row in downtown Prescott. Three museums, Sharlot Hall Museum, Phippen Museum, and Smoki Museum, boast informative exhibits on Arizona's territorial history and native cultures. Over 450 miles of recreational trails wind through the Prescott National Forest offering enjoyment for hikers, mountain bikers and horseback riders. Be sure to pack your golf clubs because Prescott has five public courses to choose from. Stay in one of Prescott's historic hotels, inns or bed and breakfasts.
RIM COUNTRY
PAYSON, PINE, STRAWBERRY, CHRISTOPHER CREEK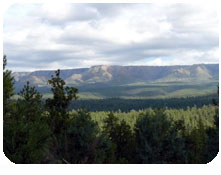 Arizona's Rim Country is blessed with endless views, absolutely pure air and the largest stand of Ponderosa pine trees in the world. Four distinct seasons offer you and your family the chance to watch winter fade into bountiful flowers of spring, enjoy the refreshing cool breezes of summer, photograph the blazing colors of fall and look forward to the snowfalls of winter.
Everyone is welcomed at the official visitor center. Located on the west side of highway 87 and Main Street, the visitor center is dedicated to assisting you with your questions. Knowledgeable volunteers and staff will make sure you have guides, maps, information sheets and Chamber member brochures to make your visit to Arizona's Rim Country more memorable.
We are for the birds — thousands and thousands of them. We have bald eagles that nest in the area and sail around our town lakes looking for trout. Migratory Canada geese, coots, pintails, mallards, and many other ducks abound in the cooler months. Throughout the year we have a few dozen of kindly farm ducks that beg for grain. Bring the kids and don't forget the camera.
Do you want to know where Zane Grey lived or how you can buy some of his books? What about a creek with trout or a lake with boats that you can rent? Ever wonder where you could go see some Indian ruins or see how archeology is performed? How about the easiest route to the Grand Canyon, Canyon de Chelly, the new Mormon Temple or to view some American bison? Ask our terrific volunteers. They know everything or know where to look it up.
SEDONA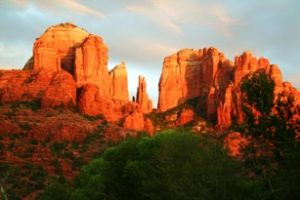 Red Rock Country is a four-seasons playground for everyone — for history, geology, archaeology, art and sports buffs, and especially for curious, outdoor enthusiasts who love spectacular scenery. For couples, Sedona has become well-known as a premier wedding destination and for those seeking personal enrichment, Sedona's world-wide reputation as a spiritual mecca and global power spot has drawn some of the most amazing healers, intuitives, artists and spiritual guides now on the planet.
Sedona is situated in a unique geological area that has mesmerized tourists for decades. Indeed, this picturesque city is surrounded by beloved red-rock monoliths named Coffeepot, Cathedral and Bell even Snoopy because their massive shapes resemble these distinctive objects. Also, the site of this memorable city marks the mouth of unbelievably beautiful Oak Creek Canyon, a breathtaking chasm that even today, is wildly wonderful.
Towering high above Sedona and its hallmark canyon is the geologically dominating Mogollon Rim, formed from ancient deposits of limestone, mudstone and sandstone when this area was the west coast of a still-emerging continent. This awesome rim, which constitutes the southwestern boundary of the vast Colorado Plateau, is home to the largest contiguous stand of ponderosa pine in the world and imagine, the enormous plateau extends into parts of five other states.
The collection of Sedona's impressive, natural endowments also includes the 1.8 million-acre Coconino National Forest, which essentially engulfs this city and encompasses seven intriguing wilderness areas. Obviously, the list of sightseeing and recreational amenities, including state parks and national monuments, is extensive. In fact, it hardly is a surprise that the winding road through Oak Creek Canyon not only is Arizona's first officially designated scenic highway, it is the first leg of a day trip to one of the world's great wonders, nearby Grand Canyon.
Despite this land's myriad geological features, however, many tourists relate Sedona's exceptional charm to the fact that visitors conveniently can spend a day hiking, horseback riding, or bouncing in a Jeep on trails and dirt roads that crisscross this area, and then enjoy the comfort of deluxe hotels, country inns and prestigious resorts at night. Indeed, this is the paradox and enchantment of Sedona: luxurious resorts and bed and breakfasts, unique shops, impressive art galleries and fine restaurants nestled in an unusually rugged canyon surrounded by an expansive national forest.
For more information on the Sedona-Verde Valley LGBT community events and their annual Pride Festival held in September go to www.SedonaPride.org