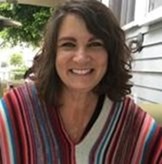 Phoenix, AZ October 3, 2017 – Southwest Center for HIV/AIDS has named public health leader Kristin Kalla, MA MPH, as its new Executive Director. Kalla's appointment follows a national search conducted by a committee comprised of the Center's Board of Directors and key representatives from the Phoenix business, philanthropic and public health communities. Kalla holds Master's degrees in Public Health (MPH) and Medical Anthropology (MA) from UCLA, in addition to a BA from the University of California, San Diego. In 2014, she was inducted into the Alumni Hall of Fame at the UCLA Fielding School of Public Health. She is also an ordained minister, certified in Ayurvedic nutrition, and a Reiki Master practitioner.
"We are very excited about having Ms. Kalla at the helm of the Southwest Center," said

Mike Sparaco, Southwest Center for HIV/AIDS Board Chair. "Kristin is a mindful, mission-driven nonprofit executive who has diverse experience steering strategic change, scaling-up, and mobilizing funding for community-based initiatives focused on public and women's health, HIV/AIDS, gender equality and diversity both in the U.S. and abroad."
Over the course of a 25-plus-year career, Kalla has been a senior manager and technical advisor on public health and gender justice issues to the U.S. Government, USAID, CDC, foreign government ministries, UNICEF, CARE International, among others. She has led the development of protocols and standards in the fields of public health and social justice, including an international protocol for HIV/AIDS voluntary counseling and testing; youth programming and advocacy; prevention of mother-to-child HIV transmission; and guidelines for ensuring the meaningful involvement of people living with HIV and AIDS.
"Arizona is now ranked 15th in the United States for the number of newly diagnosed HIV cases. I'm so inspired by the local survivors, LGBTQ community, advocates, city officials, donors, partners and Center staff who have committed their efforts to work on behalf of communities in the Phoenix area affected by HIV/AIDS. The City of Phoenix recently became the 11th U.S. Fast Track City to be part of the United Nations initiative to end AIDS as a public health threat by 2020 and I'm looking forward to leveraging my international experience and networks to lead Southwest Center in support of this important goal. It is a great honor and privilege to work with such a committed community to place those affected and living positively at the center of everything that we do in order to address their unique needs," says Kalla.
The announcement comes just three months after Southwest Center announced it was one of 30 grantees nationwide to receive a 5-year, 1.7 million dollar grant from the Centers for Disease Control and Prevention (CDC) to enhance HIV prevention and outreach services in Arizona.
# # #
About Southwest Center for HIV/AIDS

Southwest Center for HIV/AIDS, a medical and support center based in Phoenix, Arizona, for people living with or at risk for contracting HIV/AIDS. Southwest Center for HIV/AIDS is the largest clinical, education, behavioral health, prevention and nutrition support center dedicated to fighting HIV and AIDS in the Southwestern United States. The Center provides prevention, testing, education, community outreach, family support services, behavioral health services, and health & wellness programs including, naturopathic medicine, primary medical care, nutrition services and an on-site vitamin shop through the Kirk Baxter Wellness Center.