RAINBOWS FESTIVAL
SATURDAY AND SUNDAY, APRIL 30 – MAY 1
AT HERITAGE SQUARE HISTORIC DISTRICT
19th Annual Downtown Phoenix Festival is FREE and OPEN TO THE PUBLIC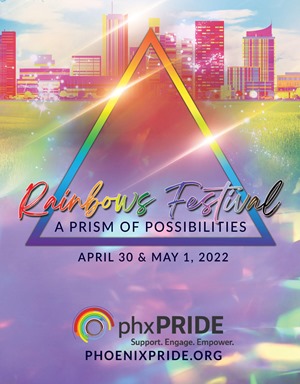 PHOENIX — The 19th Annual Rainbows Festival, Arizona's second-largest annual LGBTQ event, will be held on Saturday and Sunday, April 30-May 1, 2022 at the Heritage Square Historic District in downtown Phoenix. The festival will be open on both days from 10:00 a.m. until 6:00 p.m. It is produced by Phoenix Pride and presented by Embry Health.
This will mark the Rainbows Festival's return from a two-and-a-half-year pandemic-induced hiatus. The last was held in November of 2019.
As in years past, the two-day outdoor event will be FREE, OPEN TO THE PUBLIC and FAMILY AND PET FRIENDLY, and will include hundreds of booths from local businesses, activities, food, two stages of live entertainment and more.
Comprising more than three-and-a-half acres (approximately 155,000 square feet) of fun for the whole family, the Rainbows Festival is expected to draw more than 20,000 guests over its two-day run. Headliners on the Festival's Bud Light® Main Stage will include American Idol and Queen of the Universe finalist Ada Vox on Saturday, April 30; and Canadian Hot 100 singer-songwriter Mia Martina, on Sunday, May 1. In addition to the headliners and other Main Stage performers, the event will feature a full lineup of live entertainment throughout both days, on the Nissan Community Stage.
"We've been waiting for a long time to bring the Rainbows Festival back to the Greater Phoenix community, and after two-and-a-half years, it is finally in sight," Phoenix Pride Executive Director Mike Fornelli commented. "As the second largest annual LGBTQ community event in Arizona, the Rainbows Festival is a vital connection point for our community, but also a chance to welcome and spend quality time with friends, family, neighbors, allies and the community as a whole. We're excited to be back and we're looking forward to welcoming everyone to Heritage Square for the event of the Spring!"
"After waiting more than two years to reunite our community at the Phoenix Pride Festival and Parade this past November, we were reminded firsthand of how important it is to have safe spaces where we can come together and celebrate our culture. The Rainbows Festival will give us another sorely needed opportunity to do just that," President of the Phoenix Pride Board of Directors Tait Moline added. "Building on the incredible success of our fall events, we are expecting a phenomenal turnout for Rainbows, and, as always, everyone is invited to join us for a fantastic weekend of fun, food, music and inclusion."
For more information on the 2022 Rainbows Festival, including detailed event, parking and accessibility information, the public is encouraged to visit http://phoenixpride.org/events/rainbows-festival.
The 19th Annual Rainbows Festival is a production of Phoenix Pride, which has helmed the event since 2012. The Rainbows Festival in Phoenix originated in 2002.
Embry Health is the overall presenter of the 2022 Rainbows Festival. They are joined by supporting partners, including Bud Light®, Nissan Motor Corporation and Tito's Handmade Vodka.
ABOUT PHOENIX PRIDE
Phoenix Pride is the producer of the two largest annual public LGBTQ+ community events in Arizona: the Phoenix Pride Festival and Parade, and the Rainbows Festival. Founded in 1981, the organization engages year-round in its mission to unite, educate and engage people to support and empower the LGBTQ+ community and its allies. Additional information regarding Phoenix Pride is available online at the agency's website, http://www.phoenixpride.org.
ADVANCE AND SAME DAY COVERAGE OPPORTUNITIES
IN CONNECTION WITH THE 19TH ANNUAL RAINBOWS FESTIVAL ARE AVAILABLE,
BY CONTACTING JEREMY HELFGOT, BY PHONE AT 310-413-3360,
OR VIA E-MAIL TO jm@helfgot.com.