Pick an category to get all the resources the community provides:
ADVOCACY
Greater Yavapai County Coalition
303 E. Gurley St., #441
Prescott, AZ 86301
928-583-3514
www.az-gycc.org
A non-partisan organization that provides an umbrella of support to members, family, friends, and allies of the LGBTQ+ community by referring to a range of inclusive services, support, activities, and community connections.
NAZGEM
First Congregational Church
216 E. Gurley St.
Prescott, AZ 86301
gyccinfo@gmail.com
Looking for Transgender support? NAZGEM is Northern Arizona's Gender Mentors Network! NAZGEM hosts free monthly support meetings every 4th Friday at 7pm and shares resources, support and information all month long!
Northland Cares
3112 Clearwater Dr., Suite A
Prescott, AZ 86305
203 S Candy Lane, Suite 4A
Cottonwood, AZ 86326
928-776-4612
www.NorthlandCares.org
To improve the quality of life of those infected by HIV/AIDS in Northern Arizona.
Parents, Families & Friends of Lesbians & Gays (PFLAG) Flagstaff
Flagstaff, AZ
928-773-7811
www.Facebook.com/PFLAGflagstaff
Promotes the health and well-being of gay, lesbian, bisexual and transgender persons and their families.
Parents, Families & Friends of Lesbians & Gays (PFLAG) Prescott
Prescott, AZ
www.facebook.com/PrescottPFLAG
Parents, Families and Friends of Lesbians & Gays (PFLAG) Sedona/Verde Valley
P.O. Box 20033
Sedona, AZ 86341
928-351-1076
www.PFLAGSedona.org
Provides a support system for families and friends of the LGBT community.
Payson Pride
Payson, AZ
PaysonPride.com
The Pride Festival will help to raise positive awareness of LGBTQ+ in the Payson and surrounding communities.
Peaks Pride
Flagstaff, AZ
www.PeakPride.org
Flagstaff's premier LGBT volunteer service organization. Promoting Equality through Acts of Kindness and Service.
Sedona Pride
PO Box 3231
Sedona, AZ 86340
480-712-8005
www.SedonaPride.org
At Sedona Pride, we support our LGBTQ community one person at a time.
2/22
The Trevor Project
Teen Suicide Hotline
(866) 4-U-Trevor
(866) 488-7386
www.TheTrevorProject.org
The Trevor Project is a national organization focused on crisis and suicide prevention efforts among LGBTQ youth.
CHAMBER OF COMMERCE

Sedona Chamber of Commerce
P.O. Box 478
Sedona, AZ 86339
(928) 204-1123
www.SedonaChamber.com
Sedona Chamber of Commerce Administrative Office.
12/21
CHURCHES & RELIGIOUS ORGANIZATIONS
Beacon Unitarian Universalist Congregation
Rev. Kevin Lawson
510 N. Leroux St.
Flagstaff, AZ 86001
928-779-4492
www.BeaconUU.com
We are a welcoming congregation.
12/19
First Congregational Church Flagstaff
740 N. Turquoise Dr.
Flagstaff, AZ 86001
(928) 774-0890
www.FCCFlagstaff.org
FCCF is an Open and Affirming church, which means LGBT people are welcome in its full life and ministry!
Granite Peak Unitarian Universalist Congregation
Rev. Patty Willis, Minister (and Wedding Officiant)
882 Sunset Avenue
Prescott, AZ 86305
928-541-0000
granitepeakuu@gmail.com
www.PrescottUU.org
Where all are welcomed, encouraged and nurtured… a welcoming congregation & event site. Find us on Facebook, Twitter and Instagram.
12/22
Hope United Methodist Church
1325 Ramar Rd.
Bullhead City, AZ 86442
(928) 763-3166
www.HopeUMBHC.com
Discover new possibilities: a community of love, acceptance, justice and peace…Experience hope.
CONVENTIONS & VISITOR BUREAUS
Cottonwood Chamber of Commerce
849 Cove Parkway, Suite C
Cottonwood, AZ 86326
928-634-7593
www.VVWineTrail.com
www.VisitCottonwoodAZ.org
The heart of Arizona Wine Country.
12/19
Flagstaff Visitor Center
1 E. Historic Route 66
Flagstaff, AZ 86001
1-800-842-7293
Discoverflagstaff.com
Located in the historic train station, visitors are greeted with a smile while offering assistance in itinerary planning, offering maps with lodging, dining and attraction options, and all are welcomed to enjoy the one-of-a-kind coin-operated train.
12/20
Lake Havasu City Convention & Visitors Bureau
Visitor Center
420 English Village
Lake Havasu City, AZ 86403
(928) 453-3444
www.GoLakeHavasu.com
Arizona's Playground.
Sedona Visitor's Center
331 Forest Rd.
Sedona, AZ 86339
(800) 288-7336
(928) 282-7722
www.VisitSedona.com
Please contact us or visit our website for things to see and do in Sedona.
12/22
ENTERTAINMENT & EVENTS
Mohave County Pride
Kingman, AZ
www.andtheninitiative.org
Mohave County Pride is proud to support, Mohave County's ever growing LGBTQ+ population.
12/20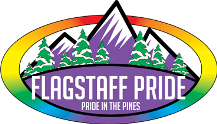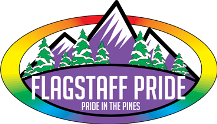 Northern Arizona Pride Association
P.O. Box 1604
Flagstaff, AZ 86002
(928) 213-1900
www.FlagstaffPride.org
Celebrating over 16 years of Pride in the Pines!
12/15
SPORTS & RECREATION