JANUARY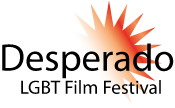 Center for the Performing Arts Paradise Valley Community College
We invite you to drop by for the films, talk movies for hours, or find a comfy seat and just soak up the atmosphere. There are special events such as music, vendor tables, and our LGBT art gallery.
FEBRUARY
MARCH
APRIL
MAY
JUNE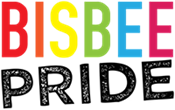 Celebrate the diversity of Bisbee!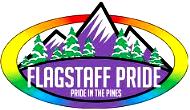 A great way to cool down and show your pride.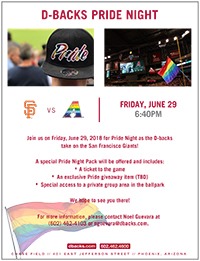 GIANTS VS. D-BACKS
June 29th, 2018
6:40 PM
Chase Field
401 East Jefferson Street
A giveaway will be included with the ticket purchase and a group area will be available to mix and mingle with other LGBTQ friends, allies and baseball fans!
JULY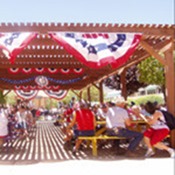 Verde Canyon Railroad will celebrate Independence Day with their annual Firecracker Express which begins with a traditional all-American barbecue and patriotic music in the depot's shaded courtyard.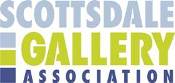 Main Street and Marshall Way
It's summertime's annual cool down in the Scottsdale Arts District. ArtWalkers can "chill out" as they "ArtWalk the Line" along Main Street and Marshall Way where dozens of fine art galleries will be busy with artist demonstrations, exhibit openings and special receptions.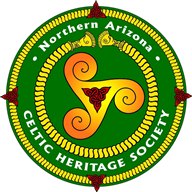 A festival celebrating all things Celtic; including Celtic entertainment, traditional food and merchandise vendors, competitions in Highland dance, bagpiping, athletics, tug-o'-war; historical reenactment and demonstrations, Celtic clans and societies, genealogy, educational workshops, plants and geology of the Celtic regions, and a fun and festive children's area including our signature oatmeal toss.
AUGUST
SEPTEMBER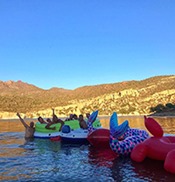 3rd weekend of May and September
A fabulous camp-out; Bartlett Lake Bash was started many years ago by gay men and women who want to meet at the Lake and have a fun time!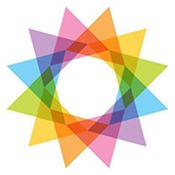 Tucson Pride is a 501(c)(3) organization that produces & promotes educational, cultural, & recreational events for the Tucson LGBTQ community.
OCTOBER
NOVEMBER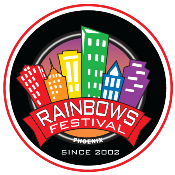 An urban street fair celebrating diversity in downtown Phoenix. FREE ADMISSION.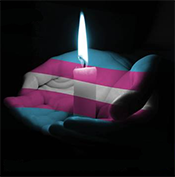 The Transgender Day of Remembrance is recognized annually each November 20. It is a day to memorialize fallen members of the trans* community who have been killed as a result of transphobia and hate.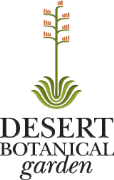 A unique southwestern holiday tradition in Phoenix.
DECEMBER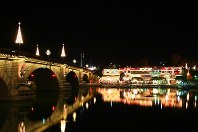 Enjoy the spirit of Christmas and experience a Winter Wonderland as gaily decorated vessels cruise under the historic London Bridge on the shimmering waters of Lake Havasu! Lake Havasu City's Boat Parade of Lights has been repeatedly selected as one of the top 100 events in the U.S. by the American Bus Association.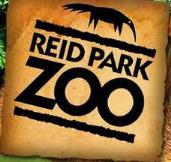 Santa, lights and wild animals at Tucson's Zoo.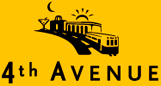 A Tucson staple for over 40 years.